Friday, June 7th, 5 – 8 PM
Salem High School
44 Geremonty Drive
Salem, NH 03079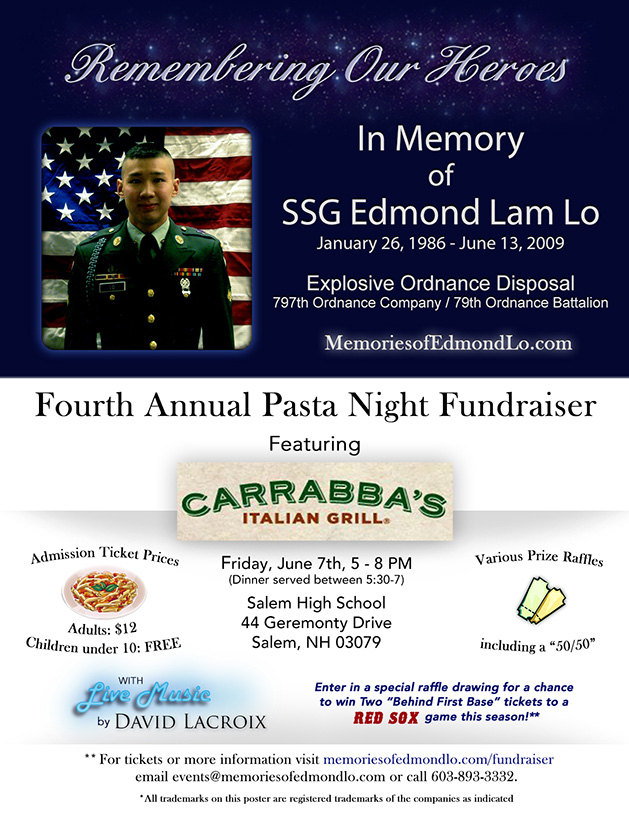 On June 13, 2009 our country suffered a great loss when SSG Edmond Lo was killed in action while in Iraq supporting Operation Iraqi Freedom.  He was deployed with the 797th EOD Company to Baghdad, Iraq for his second tour of duty with the US Army.  He provided EOD support to the 25th Infantry Division in multi-national division north. Over the course of his career he was praised for saving many lives by successfully disarming numerous IED's (Improvised Explosive Devices) before one detonated tragically ending his life.
In honor of SSG Lo, we will be holding our Fourth Annual Pasta Night Fundraiser on June 7th, 2013. We will have great prizes, fun raffles and a delicious dinner provided by Carraba's Italian Restaurant.
Red Sox Ticket Raffle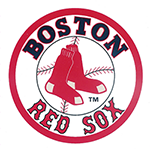 A special ticket raffle will be held again this year for two behind-first-base tickets to the Boston Red Sox vs. San Diego Padres game that will be played on Tuesday, July 2, 2013.
The cost is $5 to enter into the drawing for the two behind-first-base tickets. The drawing will be held on June 7th at Salem High School at approximately 7pm. Participants do not need to be present to win.
Dinner provided by Carraba's Restaurant

This year's pasta fundraiser dinner will be provided by Carrabba's Italian Grill Restaurant. Their authentic menu has always been a great addition to any event and we appreciate their continued support to veterans.
Various Raffle Prizes
Various prize raffles will be available during the fundraiser. Each sheet of 25 bids costs $5. There will also be additional drawings throughout the night for gift certificates to Stachey's Pizzeria.
The event will be hosted from 5:00PM to 8:00PM at the Salem High School in Salem, New Hampshire. Dinner will be served between 5:30PM to 7 PM by Carrabas Italian Grill®. Tickets are $12 for adults and children over 10. Admission for children under 10 will be free.
For more information about the event, please e-mail events@memoriesofedmondlo.com or call us at (603) 893-3332.
All proceeds benefit the SSG Edmond Lo Memorial Fund
All trademarks on this page are registered trademarks of the companies as indicated